VOIP telephony is much more than telephone calls carried on data lines to reduce the costs of toll and local calls and provides for the intelligent management of calls to improve customer service and productivity. Whilst VOIP telephony is able to access the time of day, the country or called number that enable automated decisions that can materially alter the route and cost of the call it is its integration with business software applications where the main benefits can be achieved.
Adaxa Suite Telephony Integration
The Adaxa Suite takes the management of calls much further than just cost optimization and puts telephony to work to increase customer service and productivity. The Telephony Integration module connects the Asterisk switchboard to ADempiere ERP and allows calls with non-hidden 'phone numbers to retrieve the details of the contact(s) using the incoming caller ID. The following diagram shows the nature of the integration.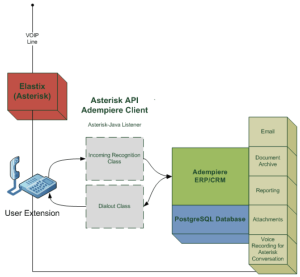 Inbound Calls
When the Caller (contact) is identified, information relating to the contact and any recent dealings with that contact that are stored in the ERP system can be displayed on the screen of the call recipient. If the call recipient transfers the call to another user of the ERP system, the audio and the details displayed on the first call recipient's screen will be transferred to the second recipient.
The information displayed when the caller is identified is user defined and can be any combination of information stored in the ERP system.
Outbound Calls
Outbound calls can be made from a single click on any field in the ERP system that contains a telephone number. The outbound call is 'prepared' by clicking inside the 'phone number field and autodialed when the telephone handset is picked up (or the equicalent headset action occurs).
Audio Archiving
If the user chooses to record the incoming or outgoing call the audio recording can be stored in the Document management system and indexed with the metadata, derived from the ERP system, that is automatically associated with the call. The audio is searchable from within the ERP system, or the document management system, based on the metadata which is automatically associated with the call.